The Birthday of St. Genevieve
, patron saint of secretaries and the fevered. Perhaps today is the day we should have sworn in the new SoS and SoA.
I'm late with the reads for today, and for that I apologize.
When it comes to making the Iowa Caucuses into a bad concert,
Greg Edwards is apparently immune to our disgust
. Even after the beating he took yesterday, he was still going to make a TV appearance with Joe Scarborough on MSNBC today until the interview was canceled because
Scarborough was "unavailable."
In a past job, when crazy people called and wanted to talk to the boss, I was also told to tell them he was "unavailable." I suspect it's not a coincidence.
Finally, this isn't Iowa related at all, really, but just to show how bad some people are at protecting you from identity thieves, Joe tells the tale today of how Wisconsin put taxpayers' social security numbers on the
outside of their tax return mailings
. Oops. Maybe that's why MLB Hall of Famer
Rollie Fingers hasn't paid his taxes
. Or maybe he's just reluctant to pay the new "handlebar mustache tax:"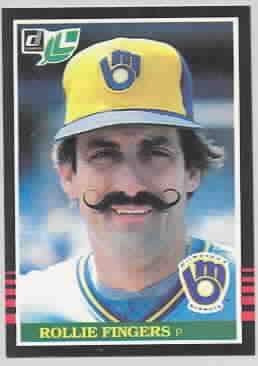 That's one serious mustache. And because I'm out of reads for today, I have a somewhat Rollie Fingers related story. Rollie Fingers played for the 1983 Brewers, as did my dad's all-time favorite baseball player,
Gorman Thomas
. On May 24, 1983, while my mom was in labor, my dad was listening to the Brewer game, which was tied at 7 in the eighth inning. With runners on second and third, the Athletics intentionally walked Ben Oglivie to bring Gorman up with the bases loaded. A home run would almost certainly have ensured a Brewer victory, and my dad told my mom, "If Gorman hits a home run, we're naming the baby after him." Sadly for the Brewers, but thankfully for me, Gorman struck out for the second time that day, and slightly after midnight when I was born, I was not named Gorman.
That's all for now.
KL